Advair Diskus Inhaler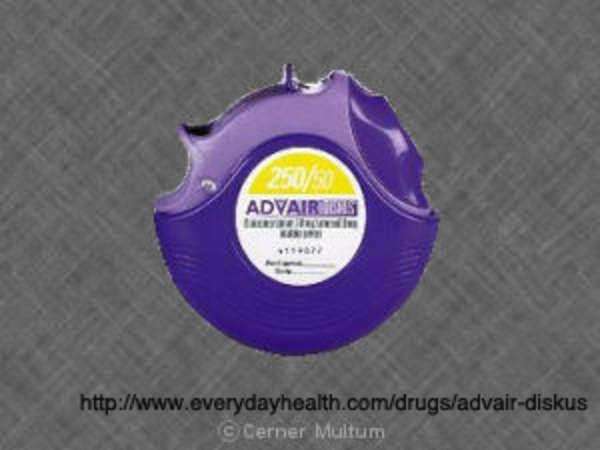 How to use an Advair Diskus inhaler
Asthmatic patients prescribed the drug Advair Diskus must carefully follow their physician's guidelines to prevent the formation of side effects. Advair, which is administered through an inhaler, is similar in design to emergency inhalers.
When prescribing the drug, a physician will explain how to properly use an Advair disk inhaler. Intake will occur twice a day. It is recommended that you allow twelve hours to pass between the use of the Advair Diskus inhaler. Whether you have consumed food prior to intake is irrelevant.
It is important to understand that when using Advair disk inhaler, you will be receiving the drug in the form of a powder. Because of its fine texture, you may not feel any grains when you inhale from the Advair Diskus inhaler. However, this does not mean that you should use an Advair disk inhaler to take another dose, for extra doses will significantly increase the risk of adverse effects.
Following the use of an Advair Diskus inhaler, you should rinse your mouth out with water. After gargling for several seconds, spit the water out.
Make sure that you keep track of the counter located on the Advair Diskus inhaler. When you are down to five doses, the Advair disk inhaler will display the remaining number of doses in red. This is an indication that you must refill your prescription. Make sure to maintain your Advair Diskus inhaler in a clean and safe location where it cannot be tampered with.
While an Advair disk inhaler is similar in appearance to an emergency inhaler, it is not designed for similar use. If you experience severe symptoms, do not take an extra dose of the medication through your Advair Diskus inhaler. The drug is not intended for the immediate relief of severe symptoms.
Some people may not be able to use an Advair disk inhaler to take the drug in a dry powder form. For patients whose breathing problems are so severe that they are unable to effectively use an Advair Diskus inhaler, a doctor may consider prescribing HFA. This is an aerosol-based form of the medication.
If you receive a defective or faulty Advair Diskus inhaler which leads to adverse effects, the retailer who may be held responsible in the court of law. Only a lawyer experienced product liability, drugs or personal injury will be able to determine who the appropriate defendant is and whether a lawsuit is likely to obtain compensation. If you are involved in a similar situation, you should maintain copies of all receipts of sale and all medical documents to affirm your case.
Comments
comments