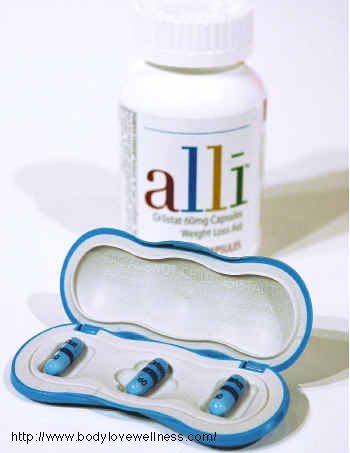 What is Alli?
Alli (generic name Orlistat) is a weight loss pill that can be attained over the counter in the United Kingdom and United States. The primary function of Alli is to prevent the body from absorbing fats. The drug is intended to be used in conjunction with a low-fat diet and regular exercise program. Alli—which again uses Orlistat as its primary ingredient—is a potent natural inhibitor of pancreatic lipases.
Alli's effectiveness is definite but modest; data from clinical trials suggests that Alli user loses roughly 4-6 pounds more than those who do not take the drug over the course of a year. In addition to weight loss, use of Alli can hold lower blood pressure and prevent the onset of type 2 diabetes. Unfortunately, Alli is notorious for some of its gastrointestinal side effects, including loose stills.
Alli works by inhibiting pancreatic and gastric lipase, which is the enzyme that breaks down triglycerides in the intestines. When these are blocked, triglycerides from the diet are not hydrolyzed into fatty acids; instead they are excreted via the bowel movement. Thus, only trace amounts of the drug are systemically absorbed; the primary effect of the drug is local lipase inhibition within the GI tract following an oral dose.
Alli will not be effective unless you adhere to the Alli instructions located on the pill's box and those mentioned by your doctor.
Alli Instructions:
As stated above, Alli is an over-the-counter drug approved by the Food and Drug Administration to promote weight loss. Alli is available in starter packs containing 60 to 90 pills or in refill picks containing up to 240 pills. Alli instructions state that only those aged 18 and older should use the drug.
The most important aspect of Alli instructions is that the drug must be used in conjunction with a strict diet and regimented workout schedule.
The first portion of Alli instructions—in conjunction with developing a low fat diet and regimented workout plan—ask you to take a single pill three times per day. Alli instructions, to maximize the pill's effectiveness, must be adhered to. Alli instructions state that you should take each pill within an hour of eating—Alli instructions state that you may take the pill either before or after the meal.
Alli instructions require you to eat three healthy meals per day. Each meal, according to Alli instructions, must contain a maximum 15 grams of fat—the low fat diet is required to minimize the chance of treatment-related side effects.
Alli instructions ask you to exercise for at least 30 minutes per day at a moderate intensity. Alli instructions recommend swimming, walking cycling and doing laps.
Alli instructions also suggest that you take a multi-vitamin each day—you should not take vitamin at the same time you take the weight loss pill. Alli instructions suggest that you should take the vitamin at night before bed. Alli instructions suggest vitamin intake because the pill, in addition to absorbing fat, removes essential vitamins from the body. Alli instructions state that Vitamins A, D and E—because they are fat soluble—are susceptible to be absorbed by Alli.