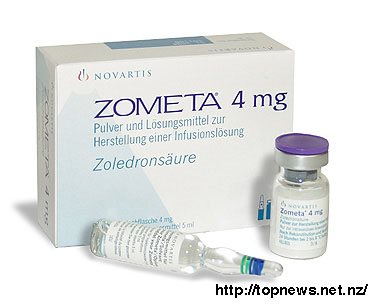 Frequently Asked Questions about Zometa
What is Zometa?
Zometa is a type of zoledronic acid which doctors prescribe for certain cancer patients who are suffering from high levels of calcium in their bloodstream. It might also be prescribed, in cases of multiple myeloma or types of cancer which spreads to the bones from another part of the body, to treat bone damage. Since Zometa is not a form of chemotherapy, it cannot stop a cancerous tumor from growing. In those instances in which it performs successfully, Zometa increases bone density, in the process slowing the breakdown of bone and the resulting emission of calcium into the bloodstream.
How is Zometa taken?
Zometa is administered intravenously, which means that a healthcare professional will have to inject it into a patient's veins. This process usually lasts at least fifteen minutes, and the particular dosage level is based both on the apparent effectiveness of the drug and the patient's risks for side-effects, such as the presence of a kidney condition.
Doctors usually prescribe Zometa sessions once every three or four weeks, and they won't be sure how the previous treatment went until at least one week afterward, since this is the amount of time needed for the drug to take its full effect. Patients usually take calcium and vitamin D supplements while undergoing Zometa treatment in order to facilitate bone regrowth.
What are the common side effects of Zometa?
Most patients suffer only very minor side effects from Zometa. The most common are dizziness, headache and some flu-like symptoms. More serious side-effects include new pains in the patient's jaw, hip, thigh, or groin, tingling or numbness anywhere in the body, and some visual blurriness or other eye problems. A change in the amount that you urinate might also be a sign of a very serious side effect, something which might result in kidney failure if not treated, so you should consult a doctor right away if you notice a change.
Are some people allergic to Zometa?
Yes, some individuals do develop an allergy to Zometa, but this is very rare. Symptoms of an allergic reaction include a rash, itching, severe dizziness, difficulty breathing, and painful itching or swelling, especially if it is in your face, mouth or throat. If you notice these symptoms, contact a medical professional right away.
Are there any more dangerous side effects of Zometa?
In recent years, Zometa as well as other bisphosphonates which work similarly such as Actonel, Boniva, Didronel, Fosamax Skelid, Aredia, and Bonefos have been linked to some very serious side effects which could potentially be deadly. Since these side effects haven't necessarily been advertised, many individuals have taken filed lawsuits against the manufacturers of Zometa.
If you've suffered from one of the following conditions and are taking Zometa, then you should consult an attorney right away:
•
Femur Fractures:
Femur fractures occur just below the hip joint and can be extremely painful. The American Society of Bone and Mineral Research found that Zometa and other bisphosphonates should rewrite their warning labels because there is a verifiable connection between these drugs and atypical femur fractures. The study that they conducted involved 310 randomly selected cases of atypical femur fracture, and in 291 of these 310 cases, the patients turned out to be taking Zometa, usually for five years or more. The FDA confirmed the findings of the Society in a report which linked bisphosphonates with atypical femur fractures for individuals who've taken the drug for at least four years.
•
Esophageal Cancer:
The British Medical Journal linked bisphosphonates to cancer of the esophagus in those cases in which the bisphosphonates were taken for at least five years. The findings were that for such patients aged 60 to 70, the risk for developing cancer was 2 in 1,000 or twice the normal risk for patients aged 60 to 70. Additionally, the FDA has verified at least thirty-four cases of esophageal cancer have been caused by the use of bisphosphonates including Zometa, and an additional thirty-four cases have been found in Europe and Japan.
•
Severe Musculoskeletal Pain:
The FDA released a press statement in January 2008 that they were worried that doctors were underestimating the linkage between bisphosphonates and severe pain in the bones, joints, or muscles. Since this pain is sometimes debilitating, it's a very serious consequence. Although further research is needed into the risk factors for this severe musculoskeletal pain, the FDA assured the public that bisphosphonates are to blame in many cases, and the discontinued use of bisphosphonates can be seen to cause an end to the symptoms.
•
Osteonecrosis of the Jaw:
Osteonecrosis of the Jaw is often abbreviated to ONJ or else referred to more colloquially as dead-jaw syndrome. The condition can be defined as failure of the jaw to heal after minor trauma like tooth extraction. This will cause the bone of the jaw to be exposed, which is not only a disfiguring condition but a torturously painful one as well. There is significant research to show that high doses of bisphosphonates can be linked to an increased risk for dead-jaw syndrome when the drugs are taken by cancer patients. If you're on Zometa and feel one of the symptoms of dead-jaw syndrome, such as jaw pain, gum swelling, loose teeth, fluid draining around the guns, or an increased heaviness in your jaw, then you should report them immediately to your doctor.
What type of legal help can I get?
Patients who've suffered one of these very serious side effects of Zometa may be able to take legal action against the makers of Zometa. Search for a medical malpractice attorney in your area and set-up a consultation appointment during which you can tell them about the injury done to you by taking the drug Zometa.
Any medical malpractice attorney who will take your Zometa lawsuit will work on a contingency plan. This means that they'll only get paid a percentage of your award or settlement, so that if you don't get an award or settlement, your attorney won't be paid either. Contingency plans greatly cut down on the risk you take when seeking legal action.
Comments
comments