Yaz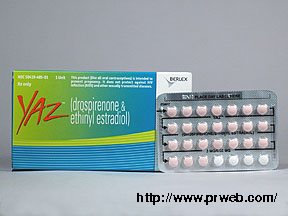 What is Yaz?
Yaz is a birth control product, generically known as Drospirenone that was developed by Schering AG and now manufactured by Bayer Pharmaceuticals. The drug works as a synthetic form of progesterone. The drug essentially confuses the body into believing it is pregnant. In doing so an egg is not released into the uterus and the lining of the uterus is expanded and prevents sperm from traveling. The drug is also used to treat acne in women over the age of 14.
Side effects
Normal side effects associated with Yaz include persistent irritability, anger, depressed mood, anxiety, tension emotional changes, decreased interest in activities and problems concentrating. The use of Yaz has also been linked to more serious conditions including gallbladder disease, blood clots, stroke, heart attack, liver tumors, high blood pressure and breast cancer.
Government Regulation
In 2008 the FDA cited Bayer for an advertising campaign that overestimating the effects of Yaz and failing to address the risks associated with the drug. In 2009 the FDA again cited Bayer for sending inferior batches of Yaz into the stream of commerce. Once again, in June 2011 the FDA issued a warning after conducting studies on Pancreatitis in birth control medications. The study conclusively found a link between Pancreatitis and drugs containing estrogen and drospirenone, including Yaz. The FDA issued regulations requiring Bayer to include a warning on the label that informs its consumers of the risk. The research warns women who suffer from hypertriglyceridemia that they are at an increased risk of developing Pancreatitis when using Yaz. Yaz associated pancreatitis can lead to severe side effects including organ failure, shock and death.
Litigation
As of May 2011 there are over nearly 8,000 cases involving Yaz. The actions have been consolidated but new plaintiffs join every day. The complaints range in description of injury from gallbladder disease to pancreatic. The cases are not set to go to trial until 2012.
If you or someone you know has been injured through the use of Yaz or any other birth control product involving estrogen and drosperinone it is important that you seek a physician's assistance. If you have been diagnosed with pancreatitis, gallbladder disease or any other conditions associated with Yaz it is important that you seek an attorney's advice to better understand your rights.
Comments
comments