Advair Diskus 250 50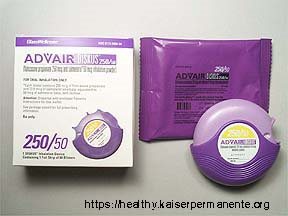 A brief guide to Advair Diskus 250 50


The medication Advair Diskus 250 50 represents the medium dose of Advair—the popular asthma and respiratory medication. Advair Diskus 250 for relief of symptoms related to severe respiratory problems, such as bronchitis can be continued on a long-term basis. However, asthma patients prescribed Advair Diskus 250 50 face increased risks if used long-term. Therefore, when combatting asthma, the Advair Diskus 250 50 must be regularly monitored.


Prior to issuing a prescription for Advair Diskus 250, a physician must question you about your medical history, including any medications you are currently taking. Advair Diskus 250 50 should not be issued patients who are allergic to milk. Additionally, conditions such as epilepsy or thyroid problems are among those which could place you at an increased risk of adverse effects when taking Advair Diskus 250. After evaluating your medical history, a physician will determine whether Advair Diskus 250 50 is likely to be safe and efficacious.


Your doctor is responsible for explaining all the potential adverse effects that may ensue as the result of Advair Diskus 250 use. The bulk of effects, such as headaches or stomach problems, are common to many prescription medications. Because treatment with this drug can weaken your immune system, patients on Advair Diskus 250 face an increased risk of pneumonia and other illnesses. Report all observed side effects, no matter how minor, to a physician as soon as possible. If you develop a rash, hives or similar skin problems, your body is experiencing an allergic reaction to Advair Diskus 250 50.


Advair Diskus 250 50 should be taken twice a day via the inhaler. Doses should be administered every 12 hours. Advair Diskus 250 is not intended to provide immediate relief for breathing problems, nor is it a substitute for emergency inhalers. Under no circumstances should you take more than two doses of Advair Diskus 250 50 a day. If you forget to take the drug, do not take two doses of Advair Diskus 250 at the same time to catch up.


Serious side effects which occur as the result of overuse of the drug are your sole responsibility. However, if you follow a doctor's directions for use of Advair Diskus 250 50 but still experience medical problems; you may have grounds for a lawsuit. A physician who has not properly monitored your body's response to the medication may be guilty of malpractice. Consult with a lawyer who specializes in such cases to see if a clear link between their actions and serious health effects can be established to the satisfaction of the law.




Comments
comments