Advair Diskus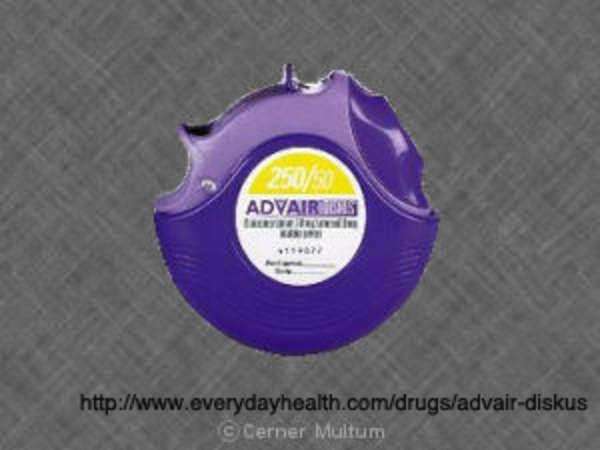 A Brief Overview of Advair Diskus


For patients (ages four and up) who suffer from asthma, the prescription medication Advair Diskus can be issued if their current medication is not sufficient to control their condition. While there is no maximum period for how long its use can be continued, this drug is not intended for indefinite long-term use--continued use of Advair Diskus can endanger patient health in significant ways, up to and including potential death. To avoid adverse effects, physician guidelines must be followed and any adverse effects must be immediately reported.


Advair Diskus is an inhalant drug whose dosage varies with the age of the patient and the severity of their condition. Dosage can take the form of 100 micrograms, 250 micrograms or 500 micrograms a day. Regardless of age, patients begin taking the drug in the form of 100 micrograms taken twice daily. After observing how the patient's symptoms respond to Advair Diskus, a physician may increase the regimen as they deem appropriate.


The drug is meant to be taken in combination with a long-term asthma condition. Once symptoms have been contained or alleviated, the dosage of Advair Diskus is steadily decreased and discontinued. Patients should then be able to continue to use less potentially harmful asthma control medication.


Some of the potential side effects, such as headaches and nausea, of Advair Diskus are commonly observed in prescription medications. Be alert to any sign of an immediate allergic reaction, especially rashes or other skin problems. Advair Diskus should take effect 30 minutes after inhalation, though it may take up to a week of use before this will be noticeable. However, if the drug seems to increase breathing problems or produce an irregular heartbeat, notify your physician immediately. In such cases, usage of Advair Diskus may have to be discontinued. Moreover, children under four should not be prescribed Advair; child use can impair or inhibit growth.

In no case should the drug be used more often than prescribed by a physician for the purposes of immediate relief. Overuse and abuse of Advair Diskus creates the risk of potentially fatal consequences.


Litigation cannot be advanced by patients who disregard intake instructions. However, patients experiencing serious adverse effects despite following a physician's guidelines may have grounds for litigation against the manufacturing company. Those without legal training will not be able to successfully represent themselves, since proving a direct link between usage of Advair Diskus and adverse effects is a complicated area of the law.


If you wish to explore litigation, schedule a consultation with a lawyer in your area who specializes in this type of lawsuit. Make sure you assemble all medical records and prescription information prior to arriving to your first meeting with a lawyer.



Comments
comments